Due to the new
ranking
from CNN Money's list of "America's Best Small Towns" with Herndon, Virginia (aka home sweet home) being number 34 of 100 (not to mention the other 25,375 others)
and
Herndon High School being in the 5th percentile of the country's schools according to Newsweek....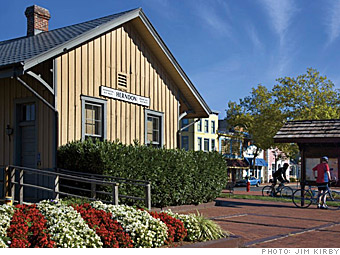 Here is my ode to Herndon.
I moved here when I was 5 and have attended K-12 at all Herndon schools.
I am a proud Herndon Hornet.
Not to mention I was a cheerleader. (If that isn't town pride I don't know what is.)
I have walked in many a homecoming parade.
I frequented the Herndon library during the summer reading programs.
I have attended most Herndon Festivals, even hosting a birthday party there once.
-it's always in town during my birthday weekend-
Friday Night Live was a hotspot in my younger years.
You name an organization with the word Herndon in it, I'm probably a member.
I sport a Town of Herndon sticker on my car.
We are conveniently located right outside of Washington D.C.
When a friend's parent dubbed Herndon "the ghetto"- we quickly stood up for our sweet town.
The Trail (aka the W&OD Trail) is frequented for walks, bike rides and even picnics.
I have painted "the rock".
I have a ridiculous amount of apparel and memorabilia with Herndon written all over it.
I have received paychecks from the Town of Herndon.
My Herndon has meant the world to me as I've grown up, made lasting friendships, created meaningful memories, and enjoyed the joy (and sometimes the curse) of my small town.
So here's to you Herndon.
You'll always be home.